You can press the stop button now: your "what-to-buy" Christmas present panic is over. We've done the impossible and come up with the ONE perfect gift that you can buy for everyone on your list, from environment-friendly teens to tricky work colleagues!
Introducing the most stylish way to drink water when you're out and about…Tyent Contemporary Drinkware!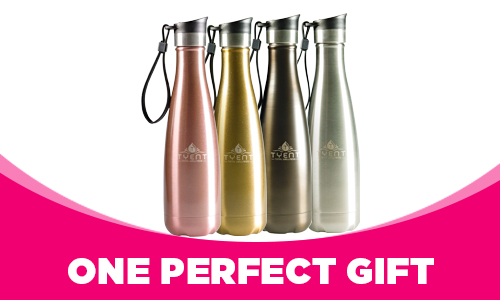 We're not even kidding about how perfect this gift is for everyone in your life.
These Bottles Check All the Boxes!
You know how there's always someone tricky to buy for at Christmas?

Despite all the glossy magazines and store brochures that list pages and pages of present ideas – sometimes the perfect gift remains elusive.
Well…not anymore. Just look at how many boxes these beauties check:
Unisex
Practical
Hyper-stylish
Affordable
Perfect for any age
Supports good hydration and health
Choose your favorite color!
Be the envy of everyone at the gym/track/college/work
Better for the planet – no more plastic bottles!
All in the Detail: The Specs to Impress!
We've pulled out all the stops to ensure each stunning piece of the Contemporary Drinkware range is every bit as desirable as you need it to be:
Convenient 500ml size
Fits into your favorite cup holder
Dual Walled Stainless Steel to keep liquids hot/cold for up to 24 hours
Vacuum Cap with Easy Sip Technology: just push the button to drink – no need to remove the cap
Carry Strap
4 Stunning Colors to pick from – Stainless Steel, Titanium Black, Rose Gold, and Gold
Everyone in your life, from the gym rat to your brother-in-law who has everything to the teenage sports fanatic with a style-maven sister and especially to your health-conscious friend who loves the outdoors…our fabulous Contemporary Drinkware will be their favorite – and most useful – gift this Christmas.
Treat Yourself!
As soon as you see these state-of-the-art bottles, with their brushed metallic sleek design and that cool Easy-Sip cap, you'll want one of your very own.
Christmas is hard work…all that shopping and cooking and so on.
You deserve a treat! So – don't forget to order one for yourself!
Carry Your Hydrogen Water in Style!
Carry your alkaline hydrogen water wherever you go in style and never be without the best-tasting water there is!
Forget the box of candies, more sets of bath-and-body lotions, and all the other stuff that no one really needs.
Show the people in your life just how much you care by giving them something they'll REALLY love to receive – Tyent Contemporary Drinkware!
Get Christmas Wrapped Up with These 7 Holiday Gift Ideas!
Have you started or even finished your Christmas shopping yet? Are you planning on leaving it all until the last minute?
Either way – the holidays are soon approaching – and we'd like to help you pick out those elusive gifts that are exciting, stylish, and useful…all in one!
Whether you're shopping for your nearest and dearest, co-workers, or your boss – these gifts are sure to delight and impress: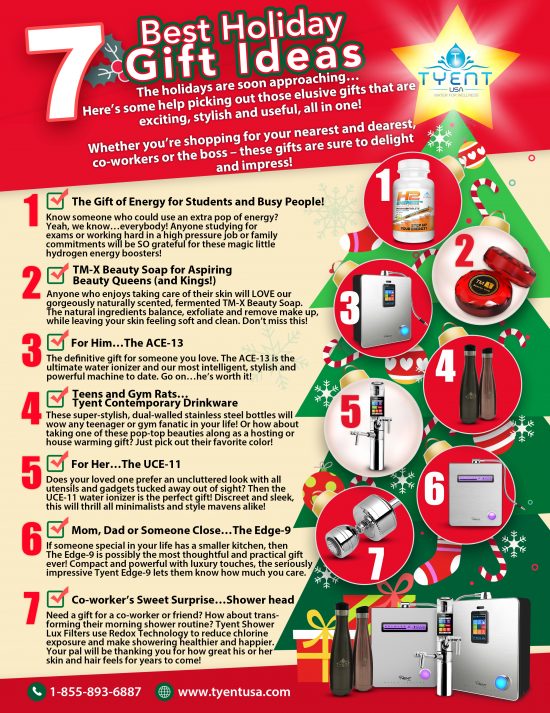 1) The Gift of Energy for Students and Busy People…Hydrogen Tablets!
Know someone who could use an extra pop of energy? Yeah, we know…everybody!
Anyone studying for exams or working hard in a high-pressure job or family commitments will be SO grateful for these magic little hydrogen energy boosters!
2) For Aspiring Beauty Queens (and Kings) …TM-X Beauty Soap!
Anyone who enjoys taking care of their skin will LOVE our gorgeously naturally scented, fermented TM-X Beauty Soap.
The natural ingredients balance, exfoliate and remove makeup – while leaving your skin feeling soft and clean.
Don't miss this!
3) For Him…the ACE-13!
This is the definitive gift for someone you love.
The ACE-13 is the ultimate water ionizer and our most intelligent, stylish, and powerful machine to date.
Go on…he's worth it!
4) For Teens and Gym Rats…Tyent Contemporary Drinkware!
We love talking about our new bottles so much – we felt compelled to include them in this list, as well!
So, why don't you take one of these pop-top beauties along as a hosting or housewarming gift this holiday season?
Just pick out their favorite color!
5) For Her…the UCE-11!

Does your loved one prefer an uncluttered look with all utensils and gadgets tucked away out of sight?
Then, the UCE-11 water ionizer machine is the perfect gift!
Discreet and sleek, this under-counter machine will thrill all minimalists and style mavens alike!
6) For Mom, Dad, or Someone Close…the Edge-9!
If someone special in your life has a smaller kitchen, then the Edge-9 is possibly the most thoughtful and practical gift ever!
Compact and powerful with luxury touches, the seriously impressive Tyent Edge-9 lets them know how much you care.
7) Your Co-Worker's Sweet Surprise…Shower Lux Filters
Need a gift for a co-worker or friend?
How about transforming their morning shower routine?
Tyent Shower Lux Filters use Redox Technology to reduce chlorine exposure and make showering healthier and happier.
Your pal will be thanking you for how great his or her skin and hair feel for years to come!
Beat the Holiday Shopping Rush with our Black Friday Pre-Sale!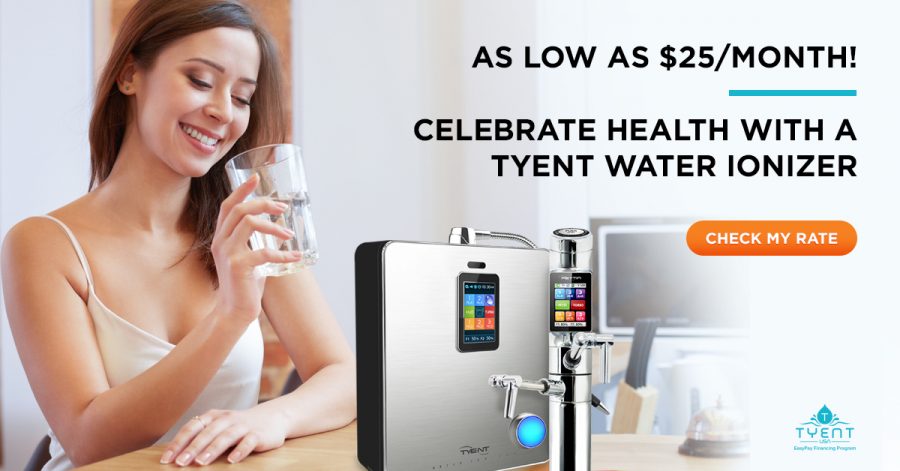 Now that you've learned of some more awesome holiday gift ideas – why don't you give us a call at to learn about some of the special discounts we're offering on our top water ionizers during our upcoming Black Friday Pre-Sale?
To top off your order – we'll even send you some FREE GIFTS to bring some holiday cheer to you and your loved ones!
Up Next: