Whether you love or loathe spring cleaning, for most of us, it's part of the calendar.
It might mean having a cursory declutter and paying annual attention to neglected areas like the back of the microwave (raises hand), or a full-scale, edge-to-edge deep clean. Whichever kind of spring cleaner you are, the spring-cleaning season is upon us, so let's go!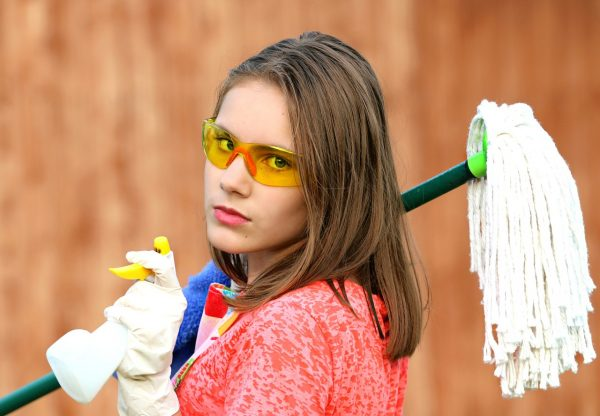 The Best Thing About Spring Cleaning? The Result!
What's awesome about spring cleaning is the end result. A fresh, sparkling home that's fragrant and a joy to dwell in. Every time you start flagging, keep that thought in mind!
But there's a downside to all that cleaning. No, not the elbow grease – the chemicals. Think about all the chemicals involved in a decent spring clean. The bathroom sprays, the kitchen surface cleaners, the air fresheners, the hard-core abrasive oven cleaners, and so on. There's a reason most of them have warnings printed on the packaging – they're seriously toxic.
Clean Green with a Water Ionizer! 
How do you get a clean home without the nasty chemicals? Let's face it: they're just as bad for the planet as they are for us! Can you spring clean your home AND stay green?
Yes, you can – with a Tyent Water Ionizer!
Clean Up with Turbo Water  
As well as producing delicious, antioxidant-rich alkaline water to hydrate and energize you, Tyent Water Ionizers also produces Turbo Water. Turbo Water is too acidic to drink, but it makes the most versatile and effective green home cleaning agent imaginable!
Use acidic Turbo Water to:
Clean kitchen surfaces
Clean the oven (a non-toxic, no-fuss way to do this job is at the top of everyone's list, right?)
Clean shower cubicles 
Clean bathroom sinks
Spritz in the cubicle after a shower for a streak-free finish!
Clean windows
And pretty much every other cleaning job you can think of!
Cut Down on Chemicals & Toxins 
Cleaning with Turbo Water is 100% natural and 100% effective. No chemicals and no toxic pollutants lingering around your home. In a world where it's near impossible to avoid environmental pollutants, it makes so much sense to cut down on them in your living space.
Speaking of the environment, cleaning green when you spring clean is much kinder to the planet as well.
And of course, the upside is that you save a ton of money NOT buying toxic chemical cleaners! How's that for a win?
That Clean, Fresh Fragrance – Naturally! 
The final touch is the way your home smells. While you're cleaning, open the windows and let fresh air pour in. When you spritz your surfaces with Turbo Water, add a few drops of your favorite uplifting essential oil to help your home smell as wonderful as it looks!
Grab Your FREE eBook! 
There are so many ways that a Tyent Water Ionizer can help you get more out of each day. For more ideas on how a water ionizer can help to support your life, health and happiness, click on our FREE eBook now!