We live in the age of the Mocktail. More and more people are giving alcohol a swerve and discovering how fabulous (and hangover-free!) a perfectly made Mocktail can be.
Mixologists are constantly scrambling to create the "Next Big Thing" and many of them are using their skills to produce alcohol-free Mocktails that definitely don't need alcohol to make them taste awesome.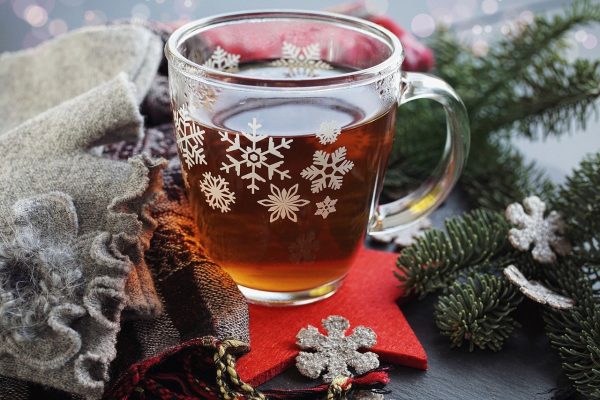 Classic Holiday Drink Recipes Using Ionized Alkaline Water
We've showcased a few of the most celebrated Mocktails right here, ready for your next celebration.
Try them straight off the page, or experiment with your own twist!

And the best thing?
They all feature alkaline hydrogen water to make them healthy, energizing AND fabulous to drink!
1) The Arnold Palmer
Sip this cool classic all year round!
1 part lemonade
2 parts iced tea, made with ionized water
lemon slices to garnish
Simply stir, garnish and serve over ice in a long glass!
2) Shirley Temple
Great for the kids, this is one of the original Mocktails, created to celebrate the curly-haired child star of early Hollywood movies!
1 part lemon-lime soda
1 part ginger ale
dash of grenadine
dash of ionized water
garnish with a maraschino cherry
Stir and serve over ice, with a cherry on top!
3) Baby Bellini
Even your most sophisticated friends will be asking for a second (or third) glass of this delicious blend!
1 part peach nectar/puree
1 part sparkling apple juice
a generous dash of ionized hydrogen water
Peach slice to garnish
Add the peach nectar and ice first, then slowly top up with the soda water and Tyent Water from a water ionizer machine.
4) The Provençal 
Inspired by the lavender fields of Provence, this glorious Mocktail is best made in a cocktail shaker, but can be stirred vigorously instead!
5 rosemary leaves
5 white grapes, halved
dash of simple syrup
dash of lavender syrup
1 ounce of ionized hydrogen water
2 – 3 ounces of lemonade
1/4 teaspoon lavender flower petals
1/2 teaspoon lemon peel
Rumble all the ingredients together and garnish with a slice of lemon and a sprig of lavender.
5) The Sundowner
…or the Sunriser, if you like!
4 ounces of sparkling white grape juice
1 1/2 ounces of sparkling water
1 ounce of alkaline ionized water
Shredded mint sprigs to garnish
With no alcohol, you can sip this little beauty all day over the holiday season!

Rhona Recommends | Alkaline Water Ionizer Recipes to Soothe a Sore Throat
Our Gift to You: SPECIAL Holiday Discounts on Tyent Water Ionizers!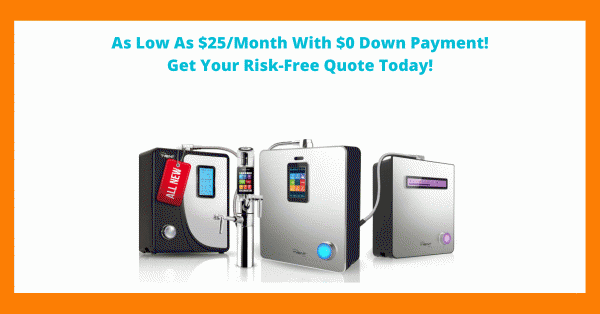 Ho-Ho-Ho! This week – you can get the LOWEST prices on our top ionizers for the holidays, including the ALL-NEW Hybrid!
Make this the best and healthiest Christmas ever – call us right now at to put the benefits of alkaline water into your home and we'll even ship you 7 FREE GIFTS with your new Tyent Water Ionizer!
Got a Holiday Drink Recipe to Share?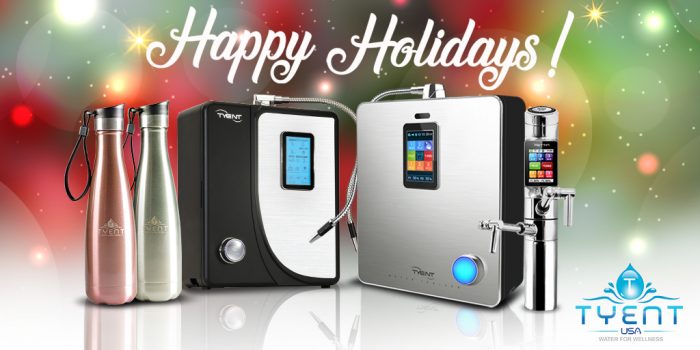 You get the picture – we love a festive Mocktail and we're always on the lookout for new recipes as well as a modern twist on the classics!
Do you have a favorite Mocktail recipe to share? Let us know…maybe we'll serve it up at our next party!
Up Next: