Are you getting enough antioxidant action in your life? Got room for more?
The reality is that most of us need to increase our antioxidant quota in order to deal with the onslaught from free radicals – scavenger molecules that attempt to stabilize themselves by latching on to your electrons. They cause damage, illness and even accelerate the aging process.
Antioxidants help to neutralize free radicals and protect your cells from harm, which is why you need to get more of them into your body.
What's the best way of doing that? We've done the legwork so you don't have to: read on for the eight most awesome ways to boost your antioxidant intake – fast!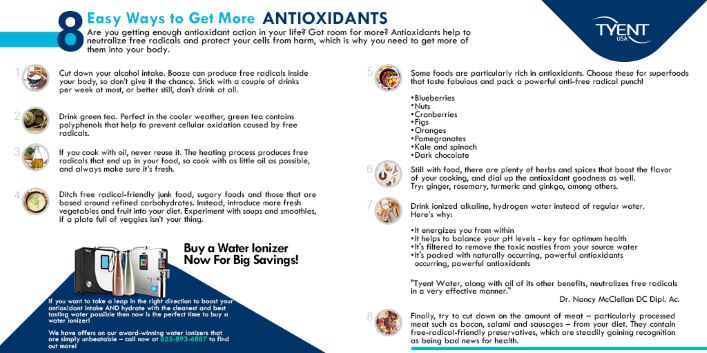 1. Cut down your alcohol intake. Booze can produce free radicals inside your body, so don't give it the chance. Stick with a couple of drinks per week at most, or better still, don't drink at all.
2. Drink green tea. Perfect in the cooler weather, green tea contains polyphenols that help to prevent cellular oxidation caused by free radicals.
3. If you cook with oil, never reuse it. The heating process produces free radicals that end up in your food, so cook with as little oil as possible, and always make sure it's fresh.
4. Ditch free radical-friendly junk food, sugary foods and those that are based around refined carbohydrates. Instead, introduce more fresh vegetables and fruit into your diet. Experiment with soups and smoothies, if a plate full of veggies isn't your thing.
5. Some foods are particularly rich in antioxidants. Choose these for superfoods that taste fabulous and pack a powerful anti-free radical punch!
Plums
Blueberries
Nuts
Cranberries
Figs
Oranges
Pomegranates
Kale and spinach
Dark chocolate
6. Still with food, there are plenty of herbs and spices that boost the flavor of your cooking, and dial up the antioxidant goodness as well. Try: ginger, rosemary, turmeric and ginkgo, among others.
7. Drink ionized alkaline, hydrogen water instead of regular water. Here's why:
"Tyent Water, along with all of its other benefits, neutralizes free radicals in a very effective manner."  Dr. Nancy McClellan DC Dipl. Ac.
8. Finally, try to cut down on the amount of meat – particularly processed meat such as bacon, salami and sausages – from your diet. They contain free-radical-friendly preservatives, which are steadily gaining recognition as being bad news for health.
Buy a Water Ionizer Now For Big Savings!
If you want to take a leap in the right direction to boost your antioxidant intake AND hydrate with the cleanest and best tasting water possible then now is the perfect time to buy a water ionizer!
We have offers on our award-winning water ionizers that are simply unbeatable – call now at to find out more!