So, you've heard that a water ionizer is the best investment you can make for delicious, healthy hydration…but how does it work?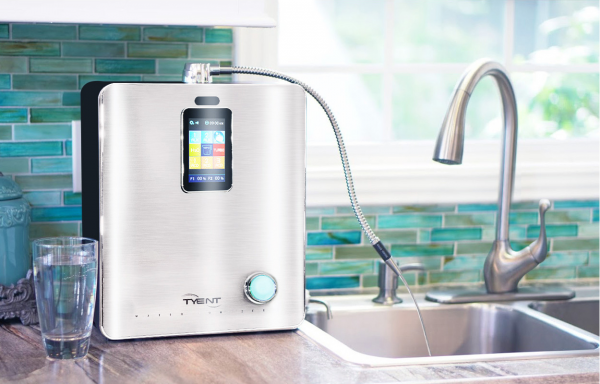 A water ionizer is plumbed directly into your water supply. Water flows into the unit, where it's ionized and filtered before being dispensed at the push of a button, chock-full of natural antioxidants, essential alkaline minerals, and molecular hydrogen.
What's more, it looks fantastic in your kitchen!
Let's take a closer look:
Tyent Water Ionizers: How To Use (In 3 Easy Steps)
Don't forget to download, save, or share these handy infographics for reference: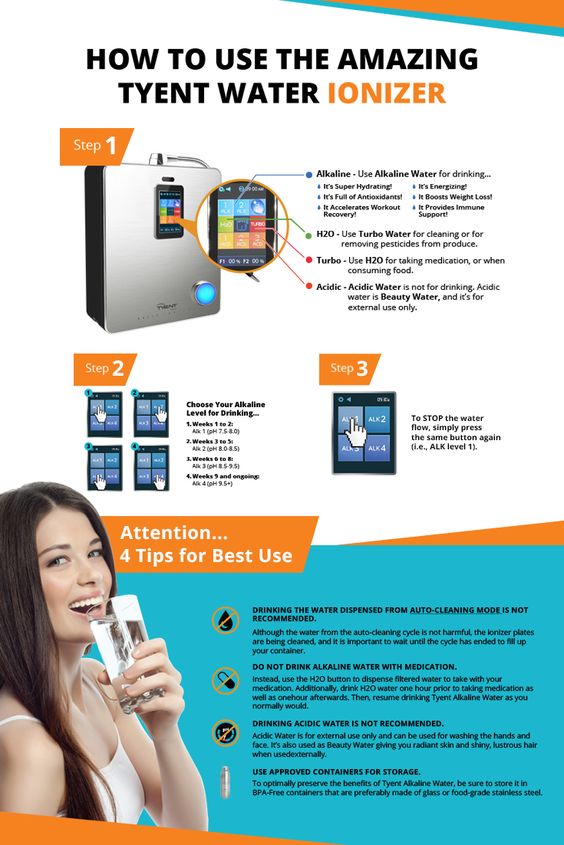 Step One: What Kind of Water?
A Tyent water ionizer dispenses four types of water:
Alkaline water – for tons of health benefits, including energy boost, immune support, hydration, and workout recovery.
H20 – for taking medication and drinking with food.
Turbo Water – for non-toxic household cleaning and removing pesticides and herbicides from fresh produce.
Acidic water – for external use only, acidic water has a host of brilliant beauty uses.
Step Two: Select Your Alkaline Level For Drinking
When you first start to enjoy the incredible benefits of drinking ionized alkaline hydrogen water, follow these guidelines for optimum results (guidelines apply to the ACE-11, the UCE-11 has a three-step process).
Week 1 to 2: Alk 1 (pH 7.5 – 8.0)
Weeks 3 to 5: Alk 2 (pH 8.0 – 8.5)
Week 6 to 8 Alk 3 (pH 8.5 – 9.5)
Week 9 and ongoing: Alk 4 (pH 9.5 +)
The smartphone-style interface with Tap Touch technology is so easy to use: just select the level you need and press!
Step Three:  Stop the Water Flow
To stop the water flow, simply press the same button again.
The technology behind every Tyent water ionizer machine might be complex, but using one is beautifully simple!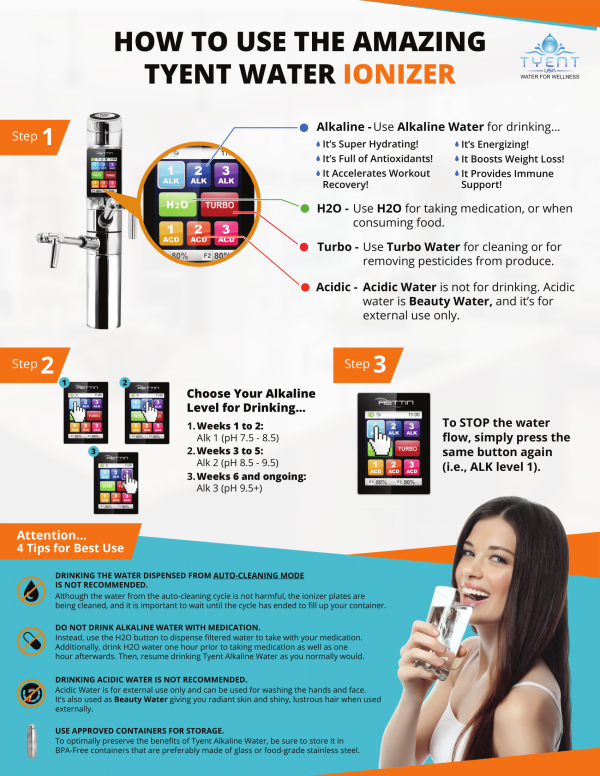 What Are People Saying About Tyent Water Ionizers?
There's nothing we LOVE more than hearing about how a water ionizer has made an incredible difference to our customers' lives.
From sports pros…
"With Tyent Water, my recovery time is much faster, and my energy levels have noticeably increased." – TJ Ward, All-Pro NFL Safety
To the medical establishment…
 "To our amazement, the results from the ionized water is within minutes of consumption." – Dr. Gus Spatharakis
From Olympic athletes…
 "After a week of trying out Tyent ionized water, I could not believe the difference I felt after extreme training efforts." – Clara Hughes, 5 Time Olympic Medalist
To your favorite entertainers…
"The Tyent unit is awesome!!!" – Rick Springfield, Grammy-winning artist for the smash hit "Jessie's Girl"
And, of course…
our countless happy customers who start every day with a delicious glass of alkaline water to boost their energy, help to maintain a healthy weight, and benefits from all that amazing hydrogen!
The Best Water Ionizer, the Best Deals
If you'd like to join them, then don't delay!
Right now – we have some incredible deals on our award-winning water ionizers that we don't want you to miss!
Want to balance the family budget? We can help!
Apply for our easy monthly payment terms to make buying an alkaline water machine even easier!
Don't forget to download, save, and share the infographics above and comment below with your favorite benefit of Tyent Water!
Rhona Also Recommends: