You know perfect makeup when you see it. It has that glowing, smooth-as-silk quality that looks as though all those cosmetics were softly blown on by angels.  
How do they do it?  
The movie stars, beauty mavens, influencers and real people in your life who hold the secret to perfect makeup all know one thing: it starts with your skin.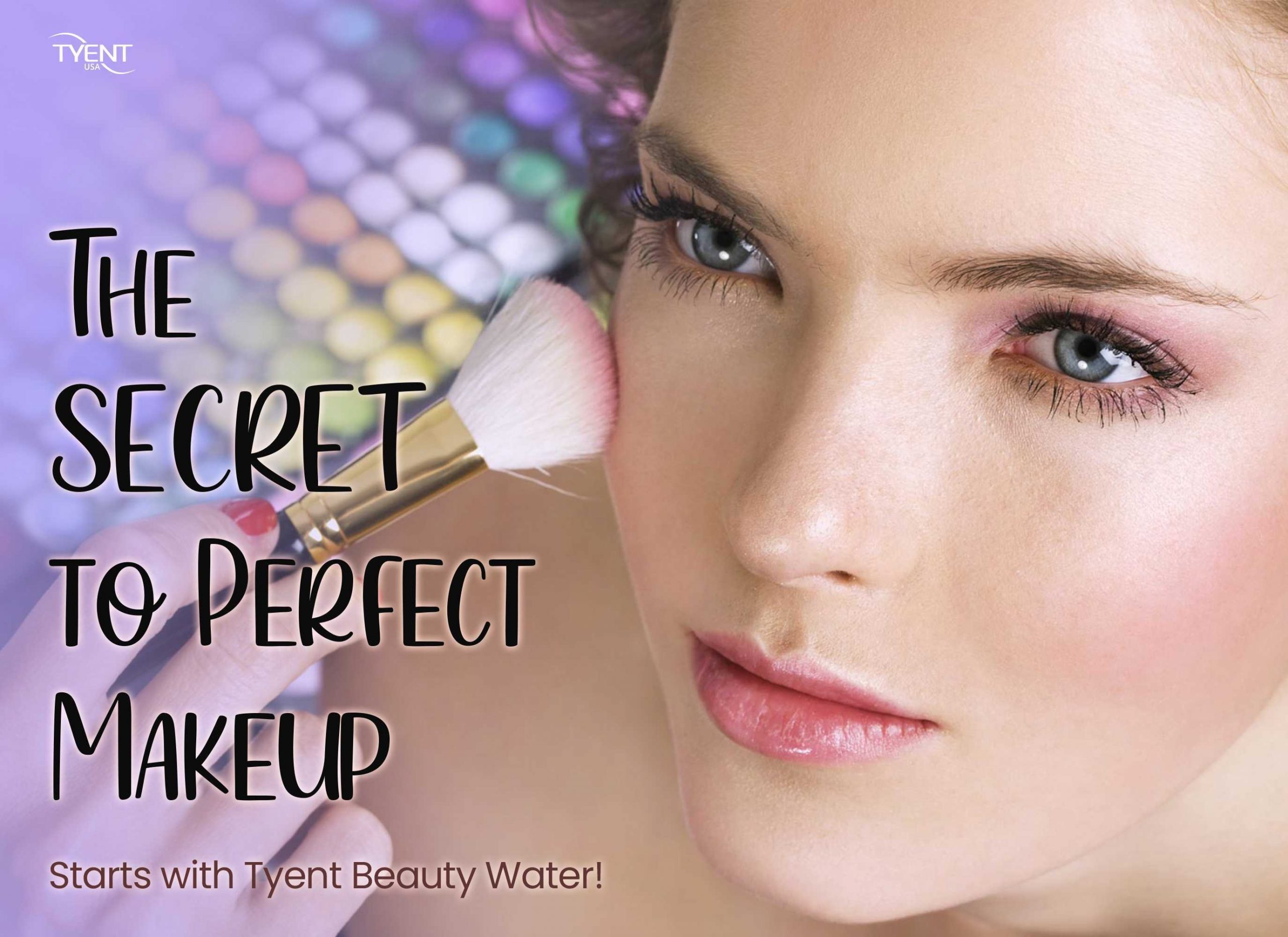 Unlock Your Skin's Potential
Even the most high-end cosmetics cannot hide skin that needs some love. In fact, makeup can often highlight issues such as dehydration and lack of 'bounce.'  
Tyent Beauty Water helps you to unlock your skin's potential and achieve the skin you want – naturally.  
Why pH Balance Matters
It begins with the pH of your skin. Forget chemical-based toners that promise to 'balance' your skin – Tyent Beauty Water really does do this, and there's a reason why!  
Our renowned Beauty Water is also known as Acidic Level 1 water, which is produced by your Tyent water ionizer. Although you cannot drink acidic water, Level 1 water has precisely the same pH as your skin.  
By spraying, massaging or wiping Tyent Beauty Water onto your face or body, you will help your skin to feel calmed, softened and balanced. If you combine this regimen with drinking ultra-hydrating, antioxidant rich Tyent Alkaline Water every day, you will notice a profound difference in the texture and resilience of your skin. 
Get Ready to Glow with Tyent Beauty Water
Tyent Alkaline Water hydrates every cell from the inside, delivering pure molecular hydrogen and a slew of minerals for a glowing, smooth complexion. 
Many people find that the combination of using Tyent Beauty Water externally and drinking delicious Tyent Water is enough, and they prefer to – sometimes for the first time in years – go barefaced, rather than cover their newly radiant skin with cosmetics.  
Are You Ready for All These Beauty Benefits?
However, the lure of perfect makeup is a strong one, and chances are you'll be excited to see what your skin looks like with your favorite cosmetics, once you've started using Tyent Beauty Water. Here's what you're likely to find: 
Your makeup goes on more smoothly

 

You need less makeup

 

Your skin has a springy, youthful 'bounce'

 

You can skip stages – maybe you'll find no need for concealer, blush or highlighter anymore

 
Your skin glows and your friends start asking what your secret is!

 
Tyent Beauty Water is For Every Skin
Tyent Beauty Water is an easy, gentle way to breathe new life into your complexion. It suits everyone and is completely natural. Add in these tips for perfect makeup, and you'll never look back! 
Keep cosmetic sponges and brushes scrupulously clean

 

Try not to touch your skin constantly during the day

 
Always

remove

every scrap of makeup before bed

 

Try to have at least one makeup-free day per week

 

Drink Tyent Alkaline Water for the best hydration of your life and anti-aging antioxidant power!

 
What's Your Skin Care Secret?
Who doesn't love swapping beauty tips? Do you have a go-to healthy beauty hack that you can't do without? Please share it in the comments below!  
View this post on Instagram